Busier than I've been in a long time, but honestly it feels kind of good.  I came down off my quarterly calls with the best quarter ever at over $1000, and went right to ghostwriting for two different people over on oDesk.  I wound up an 8K time travel romance yesterday, and am waiting for the payment to clear.  And I'm doing "erotica" for another gal at about half the pay, but it's steady work and it's more than I've been getting for my writing so I'm not going to complain.
I also started a digital portrait and art business — Persimmon Frost Arts — over on Etsy and I'm mirroring it on Facebook at Persimmon Frost Arts.   The image to the right is the one that really started me out thinking about doing this.  It's based on a photo of the Housemate's cats, Buckaroo and Perfect Tommy.  I'd been thinking about doing a pet portrait business for a while, but when I saw the way this  came out I knew it was time to put up or shut up.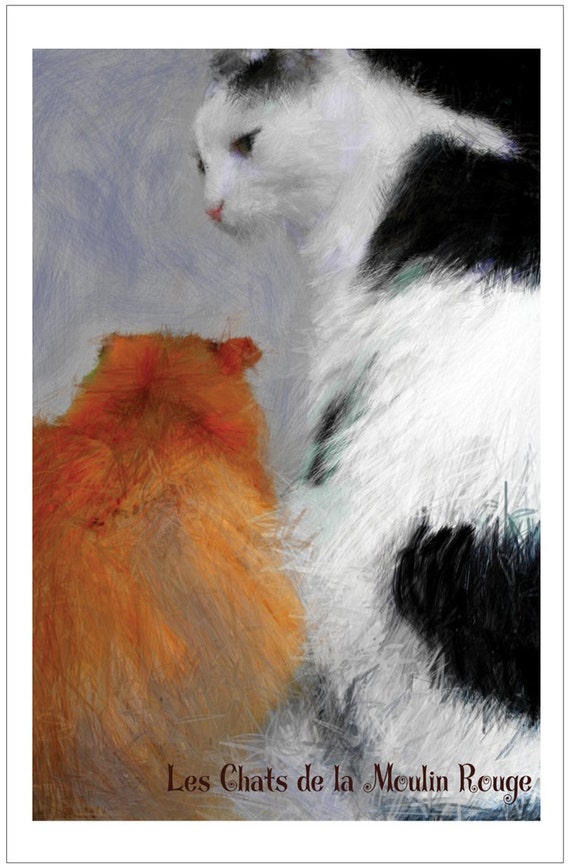 Of course one of the things one has to do when starting a business is to have business cards made.  I hied me over to Vistaprint and ordered 100, plus a poster of the boys with the name of the piece, "Les Chats de la Moulin Rouge," printed on it, and a mug for the Housemate for being such a good sport and letting me use her boys as advertising and also as a stand-alone poster which you can see on the left.  It's available via Etsy or on the Persimmon Frost Arts Facebook page for $15 plus postage.
The whole idea behind this is that I'll get photos of people's pets and do a digital portrait of those pets for them.  Each portrait will include all the digital files (which I'll also keep on my computer) and a computer print, all for $50.  Small posters will cost extra, and I have in mind to offer printing on various objects like mugs and tote bags.
I'll also do human portraits, but I don't enjoy them as much.  I did an awful lot of that when I was active in fandom and I'm kind of tired of people's faces.  And I'll be putting some of my digital art up along with some of my photographs.  I've done the photo thing before but haven't had much success.  Now I'm trying to be more proactive about marketing.
I have my own writing to do as well. I'm trying to put together a packet of work to send around to agents, and I have some super alternate universe fannish stuff lying around.  I think I may file off the serial numbers and publish myself.  It might prove to be a small but regular income and maybe we can get the porch fixed and some new windows.
In the meantime, here are some of the other portraits I've done.
 Peebie (Peanut Butter) as a Renoir girl
 Leonardo di Floofi, my fluffyman
 Snickers, a much-missed little gentleman cat
 Starry Starry Roo — Buckaroo looking down from a Van Gogh heaven
Tommy Tomato – Perfect Tommy looking perfectly elegant
Sandi – who left a big empty space in a friend's life when she passed.  This was the first pet portrait I ever did.